As the saying goes, "Eyes are the windows to the soul." Similarly, windows are the eyes of your home. They offer a view of the outside world, allow natural light to enter, and enhance the aesthetics of your property. However, like any other part of your home, windows require regular cleaning to maintain their beauty and functionality. In this article, we'll discuss the importance of window cleaning, the benefits of having clean windows, and some common questions and answers related to window cleaning.
Why is Windows Cleaning Important?
Windows cleaning is an essential part of home maintenance. There are several reasons why you should consider cleaning your windows regularly, including:
· Enhancing your view:
Dirty windows can obstruct your view, making it difficult to enjoy the scenery outside your home. Regular window cleaning will help ensure that you have a clear and unobstructed view of the world outside.
· Protecting your windows:
Over time, dirt and grime can accumulate on your windows, causing scratches and other damage. Regular cleaning can help prevent damage to your windows, prolonging their lifespan.
· Improving your home's appearance:
Clean windows can make a significant difference in the overall appearance of your home. They can improve your home's curb appeal and make it more inviting to visitors.
· Enhancing natural light:
Natural light can have a positive effect on your mood and overall well-being. Clean windows will allow more natural light to enter your home, creating a brighter and more inviting atmosphere.
· Maintaining indoor air quality:
Dirty windows can also impact the air quality inside your home. Regular cleaning can help remove dirt, dust, and other allergens that can accumulate on your windows over time.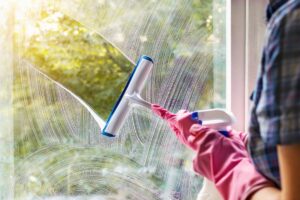 How Often Should You Clean Your Windows?
The frequency with which you should clean your windows depends on several factors, including:
· Your location: If you live in an area with high levels of pollution or dust, you may need to clean your windows more frequently.

· Your home's proximity to the ocean: If you live near the ocean, your windows may be more prone to salt buildup, which can cause damage if left unchecked.

· Your personal preference: Some people prefer to clean their windows more frequently than others.
As a general rule, it's a good idea to clean your windows at least twice a year. However, if you notice that your windows are particularly dirty, you may want to clean them more often.
How to Clean Your Windows
Cleaning your windows doesn't have to be a complicated or time-consuming task. Here are some steps to follow:
1. Gather your supplies: You'll need a bucket, a squeegee, a scrubber, a cleaning solution, and a ladder (if necessary).
2. Mix your cleaning solution: You can use a store-bought cleaning solution or make your own by mixing equal parts water and vinegar.
3. Apply the solution: Dip your scrubber into the cleaning solution and apply it to your windows, making sure to cover the entire surface.
4. Use your squeegee: Starting at the top of your window, use your squeegee to remove the cleaning solution. Work your way down, making sure to wipe your squeegee blade clean after each pass.
5. Dry your windows: Use a clean, dry cloth or paper towel to wipe away any remaining moisture from your windows.
FAQs 
Here are some common questions and answers related to windows cleaning:
1. Is it safe to clean windows from a ladder?
Yes, it's safe to clean windows from a ladder as long as you take proper safety precautions. Make sure your ladder is stable and that you have someone to hold it for you if necessary. Also, never lean
2. Can you clean windows on a cloudy day?
Yes, you can clean windows on a cloudy day. Some people prefer to clean their windows on a cloudy day as the sun can cause streaks on the glass if it's too hot outside.
3. Should you use newspaper to clean your windows?
While the newspaper was once a popular tool for windows cleaning, it's not the best choice anymore. Newspaper ink can transfer onto your windows, leaving unsightly marks. Instead, opt for a squeegee and a clean cloth or paper towel.
4. Can you use a pressure washer to clean windows?
While pressure washers can be effective for cleaning some parts of your home, they're not recommended for windows cleaning. The high pressure can damage your windows, causing cracks and other damage.
5. Can you clean windows with just water?
While water alone can remove some dirt and grime from your windows, it's not the most effective cleaning method. Adding a cleaning solution to the water will help break down dirt and grime, making it easier to remove.
6. Should you hire a professional window cleaner?
If you're not comfortable cleaning your windows or if you have high or hard-to-reach windows, it may be worth hiring a professional window cleaner. They'll have the equipment and experience needed to clean your windows safely and effectively.
Conclusion
Windows cleaning is an important part of home maintenance that shouldn't be overlooked. By cleaning your windows regularly, you can enhance your view, protect your windows, improve your home's appearance, and enjoy the benefits of natural light. If you're not comfortable cleaning your windows or if you have high or hard-to-reach windows, consider hiring a professional window cleaner to help. Remember, clean windows are not only functional, but they also add to the overall beauty and value of your home