Deep Cleaning Services in Dubai
Indoor air contamination is a leading contributor to respiratory diseases in Dubai, UAE. The country's dusty weather, coupled with the cramped indoors, affects indoor air quality. Enhancing the quality of indoor air can be achieved by deep cleaning house services. Safaeewala cleaning services offer dependable and skilled deep cleaners in Dubai.
Professional Deep Cleaning Services in Dubai
Getting a regular cleaning service for your home isn't always enough. Sometimes, you need a professional deep cleaning service for homes. The distinction between a regular home cleaning service and a deep cleaning service lies in the extent of cleaning. A home cleaning service involves dusting, sweeping, and mopping all visible surfaces.
A deep cleaning service goes beyond regular cleaning by cleaning inside cabinets, cupboards, and behind furniture. It also involves windows cleaning and hard-to-reach areas such as window frames. In addition, bathroom and kitchen steaming are included. Clean it thoroughly before moving into a new home to ensure it's spotless.
Housekeeping professionals arrive at your residence ready to deliver expert services at a reasonable cost, enhancing the healthiness of your home. You can rely entirely on these domestic cleaners, entrusting them with your home and children. If you are seeking a deep cleaning in Dubai, we offer cost-effective deep cleaning Dubai price; your search ends here.
Make Every Corner of Your House Alive
Deep cleaning services are more thorough than Regular Cleaning. They clean all appliances and fixtures in the home to eliminate dust and dirt. Normal cleaning only involves dusting and mopping surfaces.
We offer the following kind of professional deep cleaning at our Deep Cleaning Company:
Living Room Cleaning: We thoroughly clean the living room's lights, lampshades, and fans during deep cleaning. We also keep the windows, flooring, and tiles clean. Our specialists vacuum the sofa, carpets, upholstered furniture, and floor mats entirely to remove all dust from the surface. 
Bedroom Cleaning: After a long day at the office, you relax in your bedroom. Therefore it deserves to be fresh, clean, and hygienic. We guarantee that the bedroom will be perfectly cleaned, including household appliances, switchboards, lighting, floors, Windows Cleaning, and mirrors.
Kitchen Cleaning: We guarantee a meticulous cleaning of the kitchen's cooking space, ovens, and cupboards, ensuring they are impeccably clean. Our deep cleaners target tough stains and marks on cabinet doors, under the sink, kitchen tiles, and above the cupboards. We give particular attention to the thorough cleaning of the fridge and oven.
Bathroom Cleaning:  We guarantee that all surfaces will be cleaned and sterilized as required. All toilets, bathtubs, and showers will be thoroughly scrubbed and sanitized. Eliminate odors, dirt, bacteria, and germs, and provide a convenient and hygienic bathroom. Mirrors and floors are also washed and cleaned properly.
Carpet Cleaning: When you walk into your home, you first feel the carpet. So, it's essential to clean your rugs often. Also, clean rugs ensure and improve the airflow quality in a home. We clean your house's carpets in a way that doesn't hurt the environment.
Move-In-Out Cleaning: When moving to a new place, it is crucial to clean to eliminate harmful bacteria and germs thoroughly. This will help ensure a healthy living environment. Some people also choose to use move-out cleaning services. Clean surfaces promote cleanliness and cheerfulness in your home.
Reach Out To Us Today and make the initial move towards a tidier, healthier, and more joyful home.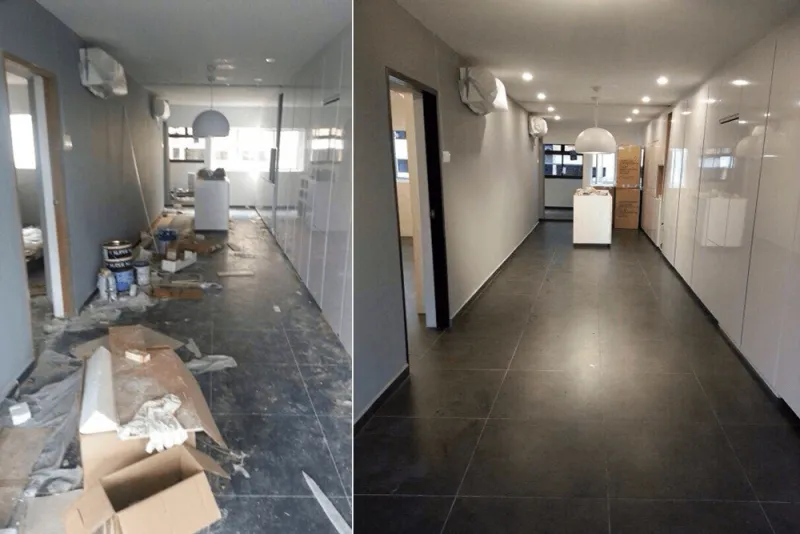 Our Deep Cleaning Services Dubai also include
Cleaning and polishing the floor.
Cleaning and sanitizing bathrooms and kitchens.
Interior and exterior Window cleaning.
Cabinets, shelves, doors, and other wooden fixtures.
Cleaning of furniture, lights, equipment, and electronic devices.
Sweeping and cleaning balconies area.
Removing paint marks and spots on tiles.
Air conditioning vents and ceiling fans.
Complete mopping, vacuuming, dusting, and a lot more.
Why should you choose us over other cleaning companies in Dubai? This sets us apart and makes us exceptional in deep cleaning services.

Top Ratings: We offer the best cleaning services available on the market. We got 4.9 out of 5 stars in Dubai for our excellent cleaning services.

Professional Team: Each team member is well-trained in their area of expertise. We give you the best services possible.

Fair Price: We offer a reasonable and affordable price range for residential and commercial clients, depending on client needs and area.

Expertise: We possess ten years of expertise in our cleaning services offering. We know how to use all the tools and methods involved.

Eco-friendly Services: Our thorough cleaning services adhere to environmental regulations, causing little to no damage to the ecosystem.

Transparency: We guarantee clear and efficient communication during the cleaning transaction.

Easy bookings: You don't have to run all over the place to book us. Send us a message or call, and we'll get back to you.

So, why be content with superficial cleanliness when you can embark on a thorough cleaning adventure? Allow our experts to perform their magic.