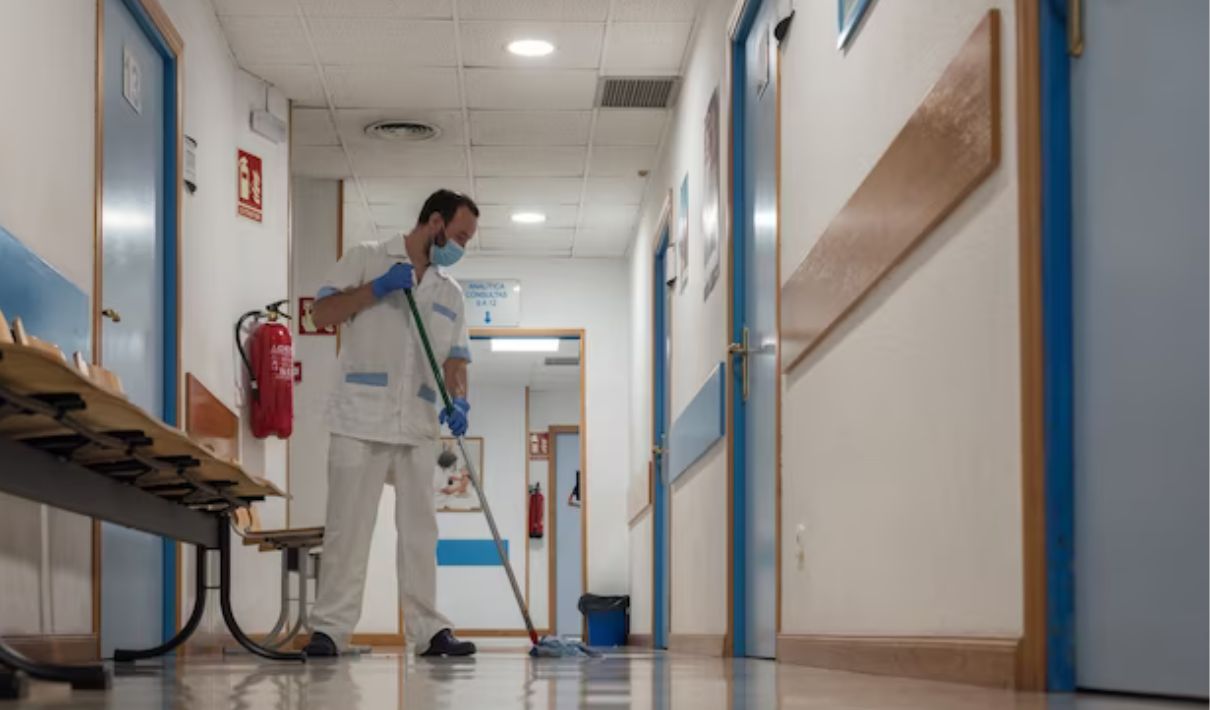 Hospital Cleaning Services in Dubai
Hospital Cleaning Services are essential for ensuring patient safety. Hospitals must be very clean to protect the health of many people every day. To keep patients healthy, protecting them from viruses in healthcare centers is essential.
Safaeewala is a dedicated and experienced hospital cleaning company specializing in comprehensive hospital cleaning services. Neglecting proper hospital housekeeping can pose substantial health risks to both medical professionals and patients. Ensure a safe and hygienic indoor environment with certified hospital cleaning professionals. Put your concerns to rest and choose our expertly trained cleaning team for your hospital's deep cleaning needs. Discover exceptional offers for hospital cleaning services today!
Hospital Cleaning Services Overview
Clinics and hospitals are places where people go to get better from illnesses. Patients with different diseases are present, which can make the environment unsafe for other patients, their relatives, and medical staff. A higher risk of spreading germs and bacteria leads to cross-contamination and antibiotic resistance. Different areas in the clinic or hospital need specific 100% hygienic cleaning methods to stay clean and stop infections from spreading.
Safaeewala Cleaning Services is the Top Hospital Cleaning Company In Dubai. They focus on patients and offer excellent hospital linen cleaning services for better health and satisfaction. Our cleaners receive training on how to employ cutting-edge technologies to provide perfect results. The hiring process for cleaning staff involves thorough screening and training.
Our hospital cleaning services cover every aspect of maintaining a pristine healthcare environment. From routine cleaning to deep sanitization, our highly trained team utilizes industry-approved techniques, advanced equipment, and hospital-grade disinfectants. For all types of clinics, hospitals, and surgical units, we are offering cleaning services, including
We offer flexible cleaning schedules to minimize disruption to daily operations while ensuring optimal cleanliness and infection control.
Hospitality Cleaning Services Procedure
Our services are designed to eliminate unwanted infections, make sure the environment is safe and clean for you and your patients. We understand that different areas within a hospital have varying cleaning requirements. Different areas in a hospital need different levels of cleaning. Hospitals require varying levels of cleaning in different areas. Waiting areas require low-level cleaning. Patient wards require medium-level cleaning. Surgical wards and intensive care areas require high-level cleaning and sanitization.
Safaeewala trained hospital cleaners provide the best hospital cleaning services specific to each area. We focus on healthcare cleaning well to prevent drug-resistant bacteria and viruses from growing and spreading.
Proper Inspection: Our staff examines every hospital section to deliver safe and specialized medical cleaning services that meet your needs. Executing Procedure: Our cleaning solutions only utilize top-notch equipment and environmentally friendly chemicals. Our cleaners with experience oversee the completion of all services.
Results Evaluation: To assess the effectiveness of the results, our knowledgeable cleaning team members evaluate the service. To guarantee our clients are happy and satisfied.
Our professional team carries out several essential tasks when performing clinic/hospital cleaning procedures:
Special floor cleaning and treatment: We offer expert cleaning and maintenance services for different flooring types, ensuring cleanliness, sanitization, and upkeep.
Deep cleaning and sanitation: Thoroughly clean and sanitize surfaces, equipment, and high-touch areas to ensure a hygienic environment.
Washroom cleaning: Cleaning washrooms to keep them clean and germ-free by disinfecting toilets, sinks, mirrors, and other fixtures.
Disposal of waste from garbage containers: Regularly emptying and disposing of trash from bins to keep the environment clean and clutter-free.
Carpet cleaning: Carpet maintenance involves a comprehensive process of eliminating dirt, stains, and unpleasant smells.
Wall washing: Cleaning and sanitizing walls to remove dirt, stains, and any potential contaminants.
Upholstery cleaning: Cleaning and refreshing upholstery on furniture and other surfaces to maintain cleanliness and remove any dirt or allergens.
Window cleaning: Cleaning and polishing windows to ensure they are clear and provide a pleasant view.
Get Best Offer on Hospital Cleaning Services Today
Our professionals carry out these tasks to ensure a clean, safe, and comfortable environment within the clinic or hospital. We have the expertise and extensive experience in delivering hospital housekeeping services and clinic cleaning services in Dubai. We offer one-time, monthly, or yearly cleaning contracts. Our cleaners are fully responsible for cleaning your place. Our supervisor will regularly check them as we have a proper system.
Please Let Us Know if you need a hospital cleaning service. Safaeewala cleaning services can meet your expectations by delivering the necessary results and satisfaction. Discover your personalized Hospital Cleaning Quote today!