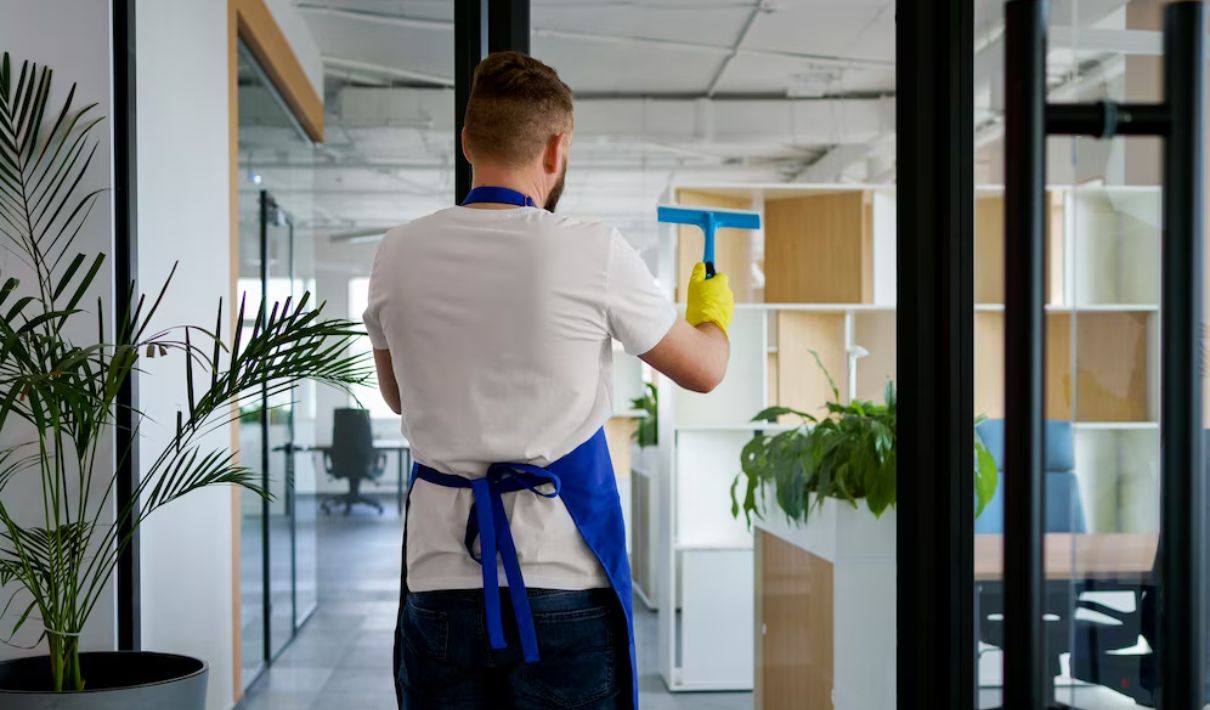 Office Cleaning Services in Dubai
Office Cleaning services in Dubai are essential for maintaining a healthy and comfortable atmosphere for your company and staff. Nobody likes working in a dirty environment. Our office cleaning services will remove the accumulated dirt, dust, and stains over time. A well-organized place would make the ideas ordered and a messy place do the same messiness to your thoughts. One key aspect of successfully attracting new clients is presenting oneself in a professional and refined manner.
The Importance of Office Cleaning
Your office is the face of your business. A tidy office is important for a healthy and efficient workplace. A clean workspace leaves a lasting impression on your clients and customers, reflecting your competence and professionalism. Employees are more likely to be happy and motivated when they work in a clean and organized environment.
An untidy and disorderly work environment can adversely affect the stress levels of the staff. A clean office can also help to protect employees' health. An untidy office can cause health issues like allergies, asthma, and respiratory infections due to dust, dirt, and germs.

In addition, we offer flexible cleaning service plans, allowing you to choose from one-time, weekly, biweekly, or monthly options. Our service is reliable. A maid with all the needed tools will arrive at your doorstep on time. You can be confident that your needs will be taken care of.
Affordable Office Cleaning Services in Dubai
As an entrepreneur or small business owner, you may need more time to regularly visit all your organizations to check your employees' work status and working environment. We are here to assist you in keeping your office clean and attractive. We deliver top-notch clean office services in Dubai at affordable rates.
Sweeping, Mopping, and Buffing Floors: Using the most up-to-date sanitizing and cleaning technology, our cleaners remove all dirt, stains, dust, and bacteria, leaving the floor clean and sterilized.
Office Furniture Cleaning: We completely clean and sanitize your office furniture to maintain a healthy working environment. It includes tables, chairs, computers, laptops and other items used in the office.
Vacuuming Carpeted Areas: Our skilled cleaning staff ejaculate the dust and dirt from your office carpet to give it a longer life and give your employees a safe and healthy environment.
Window and Door Cleaning: To give your office perfect cleaning services, our cleaner will take care of your windows and doors because these are the most touched and exposed objects in your office.
Scrubbing and Disinfecting Bathrooms & Restrooms: Bathrooms are the typical palaces that's why these places need utmost attention when it comes to cleaning. This is why our cleaners properly clean your office restrooms and washrooms to make a clean impression.
Professional Office Cleaning Company in Dubai
Safaeewala Cleaning Services employs professional office cleaners and eco-friendly cleaning products to complete the task with the utmost care and professionalism. Cleaning the workspace can protect you and your employees from dangerous viruses that can make you sick. You won't have to worry about any bad smells remaining in your office. We are proud of our professionalism and expertise. Our staff has the skills and knowledge to provide thorough and efficient clean office services.
Your office setting reflects your business to your clients and customers. Our professional office cleaning services ensure a clean and organized workplace, boosting morale and productivity.
Book Office Cleaning in Dubai Now
If you are looking to hire office cleaning services in Dubai, then you are in the right place because Safaeewala is an experienced office cleaning company in Dubai that provides commercial cleaning services at the best rates with maximum efficiency. Our expert office cleaner in Dubai team ensures you receive results that meet industry standards. Using cutting-edge cleaning tools and supplies, we keep your space clean, orderly, and germ-free. For deep cleaning, and Dubai office disinfection services, give us a call right away.